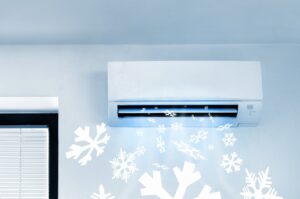 Ductless technology is becoming increasingly more popular and affordable. This is ultimately good news for customers and for HVAC professionals, because it means that people are more aware of their advantages and disadvantages, and it also makes all of the centralized heating and cooling systems more affordable as well. This is a win-win in our eyes!
However, with more popularity comes more customers who don't necessarily know the ins and outs of ductless systems. So we're going to do a spotlight blog on ductless air conditioning in Cumberland County. These systems are great for homes in the area, including Greenwich, Hainesport, Evesham, and anywhere else. Our climate is uniquely suited to heat pump technology, and you might end up saving a lot of money on your energy bill in the process.
Let's figure out if you're ready for a ductless system!
The Advantages of a Ductless System
We should begin by discussing the advantages of a ductless system. And believe us when we say there are a lot of them. Remember to consider these advantages with your own home and priorities. Different solutions work for different people, so we recommend trying to match the system with your preferences.
Efficiency
Ductless heat pumps are some of the most energy-efficient HVAC models on the market. This is thanks to two important factors, the lack of ductwork, and the heat pump technology.
Ductless heat pumps don't use ductwork, which means they avoid the problem of duct leaks and wasted energy.
Heat pumps run all year round, meaning they are efficient during mild springs and falls, and can be reliable in summer and winter.
Convenience
A ductless system is simply more convenient to use than a centralized heating or cooling unit. Let us explain.
These systems work via individual air handlers that are mounted on your wall or ceiling. They pump the conditioned air into your home depending on the setting you specifically request. This means you can turn certain air handlers hotter or colder, and even shut some of them off if you're not using certain areas of your home. You can completely customize your heating or cooling with ductless systems.
Heat Pump Technology
Heat pump technology is exceptional. It does require professional support with installation, repairs, and maintenance, but it's just leagues above older, more traditional heating and cooling tech.
The Disadvantages of a Ductless Heat Pump
There are a couple of disadvantages of ductless heat pumps that we'd like to mention in fairness.
The Initial Investment Cost
You'll notice right off the bat that ductless heat pumps require a larger investment than their conventional counterparts. These systems do cost more to initially invest in, but they're worth every penny.
Cold Winters and Inefficiency
Sometimes these systems can struggle on exceptionally cold days, but newer models can withstand even sub-zero temperatures, meaning your home would still be in good shape. You might want to consider coupling your ductless system with a furnace to help with those extremely frigid winter days.
For more information, or to invest in ductless technology, contact Ambient Comfort.