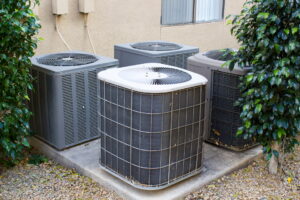 Maintenance is important for a lot of appliances and equipment, not just your HVAC system. For instance, if someone told you that you never had to change the oil in your car, you'd look at them like they were crazy, right? Likewise, with cleaning down your countertops and surfaces, some things in your home need to be taken care of, or you'll see a huge hit to your home comfort and an expensive cost down the line.
AC maintenance is the same thing. Professional HVAC maintenance in Burlington County, NJ isn't a luxury service. It's absolutely necessary for the efficiency and functionality of your air conditioning system. The longer you go without maintenance, the more you're paying in energy bills, and the more likely you are to see your system require an early retirement. Let's talk about a few reasons why investing in maintenance here in Hainesport, Lumberton, and Moorestown is always a good idea.
Reason #1: Maintenance Increases Longevity and Efficiency
The first and most important reason to invest in maintenance is because of the savings. Energy efficiency and system longevity are two incredibly important aspects of owning an air conditioner, and maintenance helps improve those metrics so you're able to save money down the line. It's estimated that every time a maintenance appointment is skipped, your system on average loses 5% of its energy efficiency. This effect is cumulative, which means that over the years you'll eventually be running your AC at a 20% energy efficiency deficiency. Similarly, your AC will only reach its lifespan of 10-15 years if it's been well-maintained.
Reason #2: Enjoy Peace of Mind and Better Comfort
It's no secret that an air conditioner that's undergone yearly maintenance works better than one that hasn't. You'll notice the yearly improvement in home comfort as your air conditioner is able to handle the scorching hot summer temperatures without any problems. Also, if there are any problems, a technician can usually fix them before they turn into full-blown repair needs. We can give you a rundown on the condition of your system and tell you if any work needs to be done ahead of time!
It just feels better knowing that a licensed professional has taken an in-depth look at your air conditioner and has given you the green light for the summer ahead.
Reason #3: There Are Many Unique Perks to Our Program!
Have you checked out some of the unique benefits that come from our maintenance plan? We grant bonuses like free reminders, priority service, and even a 100% satisfaction guarantee so you know that you're being taken care of.
Also, we're proud to offer our Premier Complete Comfort Program. Upon the purchase of a new air conditioner and furnace, you get access to the following warranties:
10-years parts
10-years labor
10-years maintenance
10-years of comfort
All of these benefits come at one low monthly price, so you can start investing in the next ten years of your home's future right now! Take advantage of this plan and our standard CCA Comfort Club program by calling us today and seeing how maintenance can improve your energy efficiency, keep bills low, and keep your home comfortable.
Contact Ambient Comfort today for great results when it comes to AC maintenance.