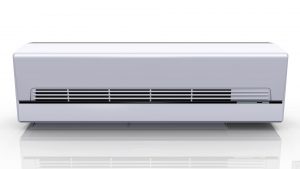 While we do recommend ductless air conditioners fairly often, no AC is without its fair share of problems. That being said, the problems with ductless AC units can basically happen to any type of air conditioner, and they're not really that bad when it comes to the extent of the problems. We're not talking about explosions or issues that could set half of your house on fire. Nope, just a leak here and there or a clog in the condensate drain.
Why is that so? Well, for starters, ductless air conditioners are well made and hyper-efficient units. There's a reason we recommend these heat pump systems so frequently. Even when they break down and everything that can go wrong with them does, there are still multiple air handlers to one system that allows them to keep cooling your home. For everything else that goes wrong with your ductless AC, you can contact your friendly neighborhood technician for AC repair in Cherry Hill.
So, let's take a look at the common problems with ductless air conditioning.
Common Issues
We'll be honest with you. Ductless air conditioners have certain problems that they are more prone to, just based on the fact that there are more air handlers and no ducts. This is just part of the bargain you make when you switch to a ductless mini-split. However, none of the problems we're about to list are problems that only happen with ductless AC systems. Let's take a look at some common issues we see when it comes to AC repair in Cherry Hill, Voorhees, and the rest of Camden County, NJ.
Condensate Leaks
Since there are more air handlers cycling refrigerant through the system in a ductless AC, there are more lines of condensate that need to be taken care of. Therefore, there's a much higher chance that you could have a poorly configured condensate drain that might end up leading to leaking water on your wall. This could eventually bring your air handler crashing down to the ground since the moist wall can't hold it up anymore!
Condensate Drain Clog
Similarly to a condensate leak, and sometimes a clog causes a condensate leak, drain clogs can occur and force a back up of condensate water in your system. This will reduce system efficiency and eventually lead to leaks.
Refrigerant Leaks
More air handler units mean more refrigerant, which in turn mean more potential refrigerant leaks! Ductless air conditioners are constant culprits of refrigerant leaks.
Improper Installation
Many problems with ductless air conditioners come from the poor initial installation. For instance, these units function with lines of refrigerant to pump hot air out of your home. If your AC is installed with low charge (less refrigerant) then it's going to have to work harder to cool off your home. This will lead to breakdowns in the future.
Blower Fan
Each air handler has a blower fan that blows the cool air into your home. Instead of using ducts, you've just got more fans to pay attention to. This heightens the chances that you'll be dealing with a faulty blower fan, which could lead to the eventual breakdown of your air handler.
Worried you've got one of these problems? We service Cherry Hill, Voorhees, as well as the rest of Camden County and surrounding areas. Contact Ambient Comfort today!