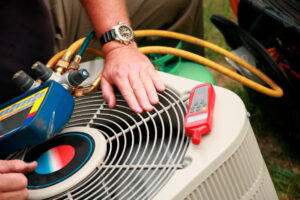 So, you've finally decided to make the winning call and schedule a maintenance appointment for your air conditioner. Congratulations! This is one of those central or ductless AC services in Gloucester County that will go a long way in ensuring that your technology remains secure and efficient. And, if we notice any problems, you'll get a heads up about them early so you can get your system fixed ASAP.
But what actually happens during maintenance? Why isn't it something that any homeowner can do? Well, that's what this blog is going to focus on. We'll tell you exactly what we do during maintenance and showcase why it's so important. Then, for anyone who hasn't scheduled an appointment in Haddon Heights, Tavistock, or Cherry Hill, we urge you to set one up early so you're prepared for the spring, summer, and fall.
The Inspection
First things first, a technician will always inspect your air conditioner when maintenance begins. This is par for the course, but also very important at locating any potential problems or areas of wear and tear that need to be addressed. If your air conditioner is in rough shape, it will be easy to spot during a maintenance appointment inspection.
We also inspect the area around the outdoor cabinet to locate any nesting critters, breakages from debris, and also to check on the condition of the vents.
The Fixes
Once we finish our multi-point inspection, it becomes important to survey some of the damage. If there are minor components that seem loose or broken, we can easily replace them. For instance, a screw that costs a few pennies can easily just be replaced while we're there performing maintenance. Or, if there's a part that needs to be tightened or oiled, then we can provide that fix during maintenance.
Major repairs can't be fixed during maintenance, but we can then alert you to them when the maintenance appointment is over.
The Tune-Up
Now we get to the fun part. At a certain point, a professional will start to actually tune your system up. This means finding areas where the efficiency is lacking and making adjustments to improve it. This can include opening up certain vents, setting up dampers, and even cutting holes in your ductwork to maximize the airflow in certain areas.
The tune-up part of maintenance is all about allowing for better temperature control and lower electricity consumption on the part of your AC.
The Cleaning
Finally, the technician gets to work cleaning the components that need it. For instance, we'll clean your AC's coils, we'll empty the condensate drain and clean it, and we'll even clean the outdoor vents to ensure all debris or nesting materials are removed.
The Test
Once this is all done, we'll turn the system on and test it. If it feels great and works efficiently, then you'll know it's been a job well done! Otherwise, we'll turn the system off, get back to work, and keep going until the system is to your liking.
To schedule a maintenance appointment, contact Ambient Comfort today!