We live in a "do-it-yourself" culture. You likely know what we mean—you can find a video online to fix just about any appliance or piece of equipment in your home when it's malfunctioning or even when it's broken down completely. This includes your air conditioner, but we don't believe it should!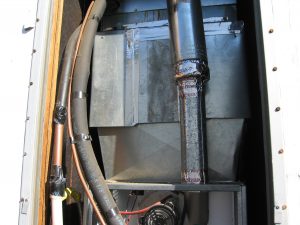 There are components within your air conditioner that are very important, and damaging them while trying to do repairs can do more harm than good—like your compressor or evaporator coil. There are other components that are hazardous in the wrong hands and legally require the assistance of a professional—like refrigerant.
Keep reading to learn more about why you always want to hire a pro when you need an HVAC technician in Camden County, NJ. 
What Can Go Wrong?
Air conditioners are pieces of equipment much like that of a car or truck. They are complicated, full of intricate pieces, and can often be a huge money sink with compounding problems if you aren't skilled enough to deal with them. There are three things on the line when you attempt a do-it-yourself fix on your air conditioner:
Your Comfort. Every time you attempt to fix your AC issue on your own, it could go from working poorly to not working at all. You could be out of luck on one of the hottest days of the season.
Your System's Health. Mechanical problems have a natural way of snowballing into even worse problems when you're not prepared. An online video with a quick fix might not show you exactly what changes you're inflicting on your system, which could damage it even further.
Your Health. Remember earlier how we mentioned refrigerant? If you've got a refrigerant leak in your system, or accidentally cause one, you'll be interacting with some nasty chemicals that could damage your health.
Your Wallet. If you do intend to call a professional to check on your system, the attempted do-it-yourself fix could have caused more problems than solutions. This could add to the expenses of a repair.
What Can I Do?
Well, you've come to the right place if you're looking to avoid the problems we just listed. Our technicians work as hard as possible to keep the prices low and comfort high. We're trained to help prevent major problems with our maintenance plan, as well as offering 24/7 emergency services in case your system does have a major problem. The truth of the matter is, a well trained and certified technician is going to be the most affordable way to fix your troubled AC in the long run.
Our Comfort Club Membership offers precision tune-ups, free reminders, priority service, and peace of mind. This is a promise of increased equipment life and lower utility bills because scheduled yearly maintenance of an air conditioner is the best way to avoid finding yourself in the position to give a do-it-yourself fix in the first place.
For reliable air conditioning repairs and more, contact Ambient Comfort today!