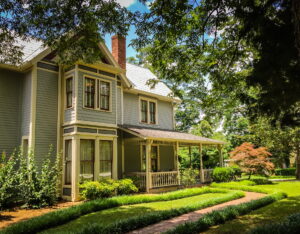 You've found one of our more "intermediate" blogs where we cover a topic that not many homeowners are familiar with. Older homes are everywhere in our neck of the woods, and some of them are much older than others. This makes things tricky for HVAC professionals, because older homes aren't necessarily spacious enough or designed to have an AC installation in Camden County.
This is true for practically every neighborhood, from Haddon Heights, to Tavistock, and even throughout Cherry Hill, old 18th and 19th century homes stand tall with new owners that would like to set them up with air conditioning units. However, AC can't blast from a radiator attached to the wall, so sometimes things need to be changed or retrofitted in order to fit this kind of system.
Don't worry, we'll cover all the ins and outs of this kind of work. AC installation is complex depending on the kind of home you have, but it doesn't have to be if you hire a professional like the ones on our team.
First Things First: Get It Sized
Sizing a home for an air conditioner is a science. There's a lot of math involved, since we're measuring the total air volume of your house. This can be tricky with an older home, because many older houses have vaulted ceilings or converted buildings like stables or porches.
Don't worry, the math can always be worked out. We even take into account the airflow and the pressure between rooms of your house, since an air conditioner needs to work with the natural air currents of your home. Leaky windows or non-insulated rooms will tend to allow cool air to escape more often, so we need to take all of these things into account while performing the set up.
This should always be done by a professional, and even more so if you've got an older home.
Invest in Proper Air Ducts
Back in the day there were two main methods of heating a home. Boilers were popular, since pipes were easy to build and find. Large radiators were placed in areas of a home with the most traffic, so they could radiate the heat from boiled water.
A central hearth was also a pretty common thing, since it was used both for cooking and for heat. The problem is that these could sometimes lead to smoke inhalation and fires, which is why dangerous fires were more common back then.
This is why you just don't see many older homes with air ducts. Conventional cooling and heating systems were just not invented until the 20th century, which means you might need to convert your older home with a boiler system into a ducted one so you can enjoy a central AC.
Or, think about investing in a ductless heat pump which can work nicely with your boiler.
Consider an HVAC System Replacement
Most people think about heating and cooling systems are separate, but they can be the same with a heat pump. If you're working hard to replace your old AC, or to install a brand-new air conditioner, why not consider replacing your old heater at the same time? Investing in a heat pump can be a great way to achieve excellent energy efficiency without messing with aesthetics of your old home.
Whatever the job, we can handle it. Contact Ambient Comfort to get started.