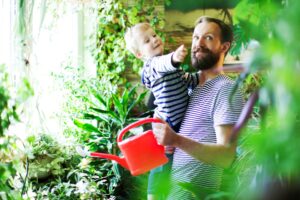 Springtime is a time when we start to think deeply about our indoor air quality. The level of contaminants in your home is going to directly impact how comfortable you are, and while temperatures are warming up, we have an opportunity to open the windows and vent things out a little bit. However, just opening a window isn't really going to cut it this year.
Homes are built to be astoundingly airtight, which means that just opening one or a few of the windows in your home isn't going to do a very good job of freshening the air. Homeowners in Stone Harbor, Avalon, and Ocean City understand this very well. You might need the help of an air purifier in Cape May County so that you can eliminate odors, and harmful contaminants, and keep your home clean.
Combine your air purifier with these few tips and your home will become a sanctuary!
5 Tips for Better Air Quality
Let's get to business. It's spring cleaning time which means you're looking for some ways to freshen up your home and improve your air quality. Well, here are a few great things you can do right now!
Change the air filter in your HVAC system. Your heating and air conditioning system comes with an air filter that is designed to protect the interior components of the unit. It's not meant to keep your air quality in good shape, but it certainly helps! Change out the air filter to both protect your HVAC system and your air quality.
Clean the dust from your air vents. Air vents are an important point of contact. They're the location where the air comes from your ducts and enters the rooms of your home. If the vents are covered in dust, mold, or debris, then the air you breathe is also going to be dirty.
Keep the rest of your home clean. Just because your ducts and vents are clean, doesn't mean that your home's air will automatically be the same! Sometimes contaminants can clear your HVAC system but end up settling on the surfaces of your furniture. Use disinfecting wipes, dusters, vacuums, brooms, mops, and other cleaning appliances to scoop up the contaminants that have settled and get them out of your home.
Use different sized vacuums. Did you know that you don't have to ditch your portable vacuum when you pick up a heavy-duty one? Sometimes small, portable vacuums can be much better at reaching those tiny areas, or scooping up things like kitty litter and fur without clogging the whole system. Experiment with different-sized vacuums to ensure that you don't leave a pile of dust in a hard-to-reach area.
Invest in an air purifier or air filter. All of these solutions can only go so far. The truth is that your home might be in need of a more industrial answer. A UV air purifier or air filtration system installed by our team can remove contaminants from the source and keep your home clean.
Contact Ambient Comfort today to invest in an air purifier, and be sure to check out our air quality system promotions!