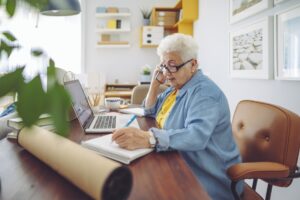 Fall is a hectic time of year. The kids are getting ready for school, work schedules are starting to get busy, and temperatures are changing. All of this happens in the short span of a few months it can all pass by in the blink of an eye.
Fall is also a time of change and growth, where our customers can start making improvements for their home comfort before the winter settles in and temperatures get too cold. This is why we're writing this blog post today.
We want to give our customers an all-encompassing fall HVAC checklist that is sure to help them stay confident and secure this season. We can help customers in Greenwich, Hainesport, and Evesham, learn how to properly put away their air conditioning systems and set up their heaters. And don't forget to schedule HVAC maintenance in Cumberland County!
1. Inspect the System Yourself
Let's start with some of the basics. We think it's important that customers take a look at their own air conditioning and heating systems, since they live with them and spend the most time at home. If you notice any marks, like dents or broken areas, then that should be a clear sign that you need support.
Otherwise, try to clear out some cobwebs and make sure that there's easy airflow in and out of the system, ensuring that it's working in a clear space.
2. Think About Your Comfort Preferences
If your air conditioner or heater is in rough shape, then it might be time for a replacement. We urge our customers to think about how comfortable they are on a regular basis. This might give you insight on when a replacement is needed.
For instance, if you've had both of your air conditioning and heating systems for over 10 years, it might be time to replace both of them. Consider a heat pump, which can do both jobs in one system, and all with the power of electricity!
3. Invest in Maintenance
Fall is the perfect time for maintenance in Cumberland County. Regardless of whether you need to invest in AC maintenance as you wind down the system, or in heating maintenance for a new heating season, it's vital that you get this service performed at least once a year per system.
For all of our heat pump owners out there, it's essential that you get your system maintained twice a year. This can be done easily in the spring and fall.
4. Cover Up and Put the AC Away
Do what you can to sweep away debris like pebbles, sticks, and leaves from your air conditioner's condenser unit. While the exterior part of the condenser is built to endure weather events, it might be a good idea to invest in a cover to give it an extra layer of protection.
5. Switch the Thermostat From Cooling to Heating
Lastly, switch your thermostat from cooling to heating mode. Once you've done this, your heating system will happily switch on and you should be all set for the coming months.