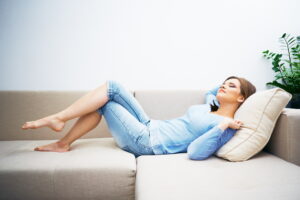 At this point, you've likely had a lot of quality time with your air conditioner. The amount of heatwaves, high humidity warnings, and just generally high temperatures we've endured this year is record-breaking. Our air conditioners have been functioning non-stop for weeks at a time, so you might have gotten used to some of the sounds and little quirks that your system has.
There's nothing wrong with an air conditioner that has a few quirks, right? As long as it pumps cool air into your home, it's probably fine.
This sentiment can get you into some trouble though, if you're not careful. Below, we'll go over some ways that you can identify a good air conditioner or a bad one. If you think your AC is in the second category, be sure to schedule AC repair in Camden County. Our team can be out to Haddon Heights, Tavistock, Cherry Hill, and beyond!
The Bad AC
A bad air conditioner might still be operating normally on the surface, but in order for it to be categorized this way, there has to be some glaring problem with it. This could be something like a strange noise, inefficiency, or an inability to properly cool your home. Let's take a look.
Poor comfort control. Simply put, if your air conditioner can't make your home feel comfortable, then it's a bad AC. There's really no way around this. Your system could have a problem with the compressor, or even a refrigerant leak, but at that point, it's no better than an oversized fan.
High energy bills. If your energy bills are skyrocketing through the roof, then there might be something clearly wrong with your air conditioner. These systems can soak up a lot of electricity when they're neglected or left unrepaired or unmaintained.
Loud or uncomfortable noises. A loud noise is one of the most obvious ways a system can signal that something is wrong with it. Don't ignore these kinds of issues, get them repaired ASAP.
The Good AC
A good air conditioner will work with you to be as convenient and powerful as possible. And, at the end of the month, you won't be surprised by the energy bill that comes your way. A great air conditioner will be with you for many years and should generally be affordable for your home and budget.
Convenience. A great AC will always be easy and convenient to operate. Why not invest in a smart or Wi-Fi thermostat to enhance this experience?
Longevity and quality. Your AC should last for a long time, 10–15 years, before it finally needs replacement. Also, an air conditioner that's in good shape should never require repairs more than one every once in a while.
Comfortable temperatures. Close your eyes and feel the air temperature in your home. If it feels good, then your AC is one of the good ones.
Quiet, regular performance. An air conditioner should work comfortably in the background, leaving your home to be a quiet sanctuary for music, fun, work, and conversations with your family.
Need help with your AC? Contact Ambient Comfort for repairs that keep your system in the good category.