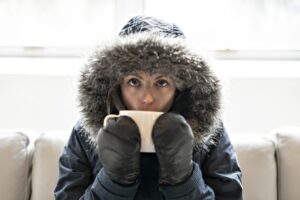 For many homeowners, when they think of a furnace system, they imagine the gas-burning one that's become so iconic. Don't get us wrong, natural gas-fueled furnaces are some of the most efficient and powerful models on the market, and our team specializes in the installation, replacement, and repair of these units. Gas furnaces are iconic because they work, and they're still available for customers who need them. But for the sake of this blog post, they're not the only type of furnace available!
Homeowners often have the choice between a gas furnace and an electric furnace, each with a different cost and operation. We think it's important that customers get informed on the different types of furnace installations in Burlington County before making a decision, so we'd like to help you on your journey.
Let's talk about the two main types of furnaces in Hainesport, Medford, and Tabernacle, and hopefully, point you in the right direction.
Your Heating Options
Furnaces aren't your only option when it comes to heating your home in the fall or winter. In fact, we provide heat pump installations for customers with unique homes that require a heating and cooling system. Also, ductless HVAC systems can be a great option for homes without air ducts. All we ask is that customers keep their minds open and speak with a professional who knows what they're doing.
But furnaces are the most common heating appliance in the country for a very good reason. They're reliable, affordable, and they keep homes comfortable.
Gas Furnaces
Gas furnaces are the most common type of furnace; they're usually what homeowners imagine when they envision a furnace. These units burn natural gas that's pumped right to your home from your local municipality. This gas is clean-burning and most gas furnaces operate with incredibly high AFUE ratings, meaning that there's almost a 1:1 ration of fuel being turned into heat, which is great.
Here are some benefits to a gas furnace.
Efficiency. As we mentioned earlier, gas furnaces work to burn only as much fuel as necessary to heat your home. Newer models have a high AFUE rating, which stands for annual fuel utilization efficiency, a measurement to see how much gas turns into heat for your home. These units are great if you're looking to save money on utilities.
Power. There's no dancing around it, gas furnaces are powerful and perfect for those cold snowy days when your home is a cozy sanctuary.
Electric Furnaces
Electric furnaces don't use gas to heat your home. Instead, they run on electric resistance, which means a coil is heated to provide warmth to the air in your home. These systems are a great option, especially for customers that don't have access to natural gas. Here are just a few benefits of these units:
Affordability. Electric furnaces can often be smaller and more affordable than gas furnaces, in case you've got a compact home that needs heating.
Safety. While gas furnaces aren't inherently unsafe, some customers can be nervous about running gas appliances in their home. Electric furnaces only use electricity, and can be a great way to avoid needing gas entirely.
Ready to invest in a new furnace? Contact Ambient Comfort today or check out some of our recent promotions!