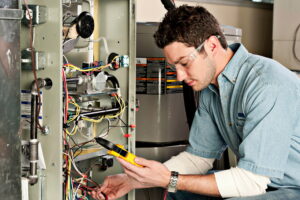 Are any of our readers into cars? If so, then you probably don't need a team of HVAC technicians to tell you how important an oil change or a tune-up is for your beloved vehicle. Maintenance and inspections are important aspects of owning machines that we depend on, and your heating technology is no different.
Furnaces are unlike other systems where an inspection focuses only on efficiency and power. Furnaces require an inspection during maintenance, since they're actually performing combustion when other heating appliances are just using electricity. This is important because it can help you and your family rest easy knowing that your furnace isn't leaking gas or carbon monoxide.
For today, let's just talk about the importance of a furnace tune-up in Cape May County. Customers in Avalon, Ocean City, Sea Isle City, and practically everywhere else in our area will benefit from this kind of service in one way or another.
The Safety Inspection
Let's talk about the elephant in the room before we move onto any other aspects of the furnace tune-up. Maintenance includes a safety inspection where our professional technician will check how the furnace works and examines the intricacies of the different components. If there's a sign that something isn't safe, we'll immediately notify you and prepare to make repairs.
Safety problems can come in all different shapes and sizes, but it's important to know that a gas furnace is designed with robustness and safety in mind. Safety concerns only really come about after years of neglect or a botched installation.
Some safety issues that can be detected on a tune-up include cracked heat exchangers, a leaking gas line, and even a port exhaust that's blocked up and causing fumes to enter your home's breathable air. All of these issues are serious safety concerns. They can be detected during a maintenance visit.
Cleaning the Components
Once we've realized that your system is working safely, we can get onto inspecting the other components and cleaning them.
Cleaning goes a long way toward ensuring the components of your furnace don't corrode or get coated with dust, dirt, and other contaminants. These problematic particles can cause your system to run less efficiently, and they can even cause it to run less safely over time.
Checking for Maximum Efficiency
It's important that your furnace run as efficiently as possible. This means the system should produce large amounts of compared to the amount of gas it combusts, all while meeting the temperature demand on your thermostat.
We'll run the furnace during a maintenance visit and monitor how much gas is being used and how efficiently it's operating. This can give us some valuable information for the future of your heat.
Adjustments, Fixes, and More
Once we've cleaned and inspected the system, we can move onto a more personalized approach. If your furnace looks like it has one component that's worn down, we can replace it. If it feels like your system isn't running efficiently, we can continue to monitor it until we find where the problem is and fix it.
Maintenance can include adjustments and minor repairs so your system is in the best shape it could possibly be in.
It's time to do what's right for your furnace, and schedule maintenance with our team of professionals at Ambient Comfort.