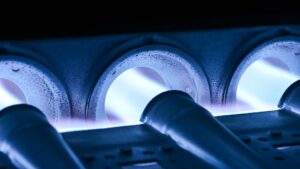 It's heater time! As the spooky costumes come out, the horror movies, and the hand-warmers, we're all getting our heaters ready for the chilly temperatures ahead. Unless you're on your way to Florida, or some area of the world with tropical climates, you're in for a chilly winter this year—no matter how much you have been relishing in the mild temperatures these days.
There are multiple reasons to be frustrated with your heater, especially if it's struggling or breaking down. And if a replacement is on the horizon, then let us talk about your options.
We specialize in HVAC service in Atlantic County, NJ and part of that is ensuring that we make the transition from one heater to another as smooth as possible. There are affordable, energy-efficient solutions out there that we can help with. Call us today if you need help.
Atlantic County Furnaces
Furnaces are the most affordable option if you're looking at replacing your old heater. They're affordable, efficient, and brutally powerful when it comes to keeping your home comfortable on the chilliest of days. By using natural-gas combustion, one of the oldest methods of heating a home, you can enjoy heated air that is safe to breathe and easy to come by. Some homeowners don't need to take advantage of any other high-tech solutions—they just want the system that's tried and tested to work just fine. If that sounds like you, then perhaps replace your failing furnace with a new one.
Heat Pumps
Heat pumps are wonderful technological advancements. They function both as air conditioner and heaters, which can be amazing in Atlantic County since we deal with muggy summers and frigid winters. A heat pump works in the same way that a central air conditioner does, except it can move heat in the reverse order. This means you can get heat drawn from the air outside and brought into your home during the winter. If you're looking for an efficient, electrically-powered heating system, then look into a heat pump.
Geothermal Heat Pumps
Geothermal heat pumps are heat pumps that are sourced from the ground instead of the air. Where an air conditioner or a heat pump draws air from your home or the outdoor air, a geothermal heat pump draws heat or cooling power directly from the earth's crust. This is incredibly efficient because temperatures are very stable only a few feet below the surface. If you're looking to save money for the next 50 years with quality heating by investing in an environmentally friendly solution, then call us!
Radiant Heating Systems in Atlantic County
In ancient Rome, people used to heat their homes using boiled water that would steam into the crawlspace and in between the walls of a home. This allowed the walls and floor of a home to radiate heat and allow homeowners to feel a warmth that was similar to that of the sun's rays! They were onto something, because radiant heating systems are still an incredibly reliable and efficient way to keep your home warm. Plus—some people believe that the feeling of warmth from a radiant heating system is much better than that of a forced-air system!
Call the team at Ambient Comfort for reliable heating services from a team of pros.