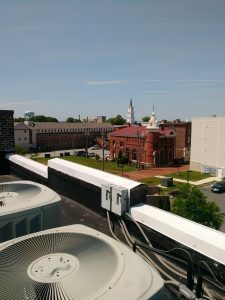 Commercial work is much different than residential HVAC work. Commercial HVAC services can include different systems and processes which means that you're going to want to be particular when looking for your next contractor. You need a professional technician who is experienced working in commercial spaces and who knows what they're doing with the larger, more intensive rooftop units. If you're in Pitman, Newfield, or Mullica Hill, you need the best possible commercial HVAC service, and that's where we come in!
Whether it's a specific set of awards or accolades, a comprehensive service plan, or just experience working with commercial systems, it's incredibly important that you choose your service professional wisely. Working with the cheapest handyman out there could give you an immediate discount, but your building will have sub-par service that might end up costing you much more in the long run.
Don't take any chances. We'll guide you through some major points to ensure that you choose the best technician you possibly can for your commercial HVAC work in Gloucester County, NJ.
Experience is Everything
While it's not exactly everything, this is a great phrase to keep in mind because experience is an incredibly valuable part of finding a quality technician. The hard truth is that commercial HVAC systems are much different and usually more intense than residential heaters or air conditioners. If you work with a contractor that has never serviced commercial systems before, chances are you're going to have some serious issues in the coming months.
Building and commercial HVAC systems require much more power and treat a much larger volume of air than residential systems. These involve some seriously expensive pieces of equipment that deal with higher voltages than a smaller unit. Don't just assume all air conditioners or heaters are the same, otherwise, you'll be paying for that assumption with your own money.
Comprehensive Services
Many business owners fall into the trap of hiring a contractor for commercial HVAC installation, but that same contractor doesn't offer comprehensive maintenance, repairs or replacements that are up to the right standards. This is an unfortunate occurrence of the industry, which is why you need to make sure ahead of time that the professional technician you decide to hire offers everything you need. Make sure that you've got a connection to call for repairs and maintenance when a problem occurs. If they've got insurance or a service satisfaction guarantee, that's even better!
Licenses and Awards
Is the technician you're looking forward to working with a NATE-certified professional? A NATE certification, also known as the North American Technical Excellence certification, is a perfect standard to use when looking for a qualified technician to work with. A handyman who isn't NATE-certified might not have the right training and expertise to address your commercial HVAC needs. There are other awards and certifications as well depending on your area. Ask and see what licenses and certifications your technician boasts about, the more the better!
Reviews
Any great HVAC team will be open and transparent about its customer reviews. Some technicians even respond to customers who had issues with their service. This transparency can be a wonderful sign that you're working with a responsible team.
Did we mention that we offer a satisfaction guarantee, with NATE-certified technicians who are perfectly equipped to handle your commercial HVAC needs in Gloucester, NJ? Give us at Ambient Comfort a call, we'll take care of you.