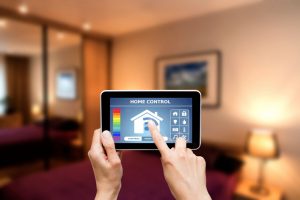 We're talking about installing a WiFi thermostat, also referred to as a smart thermostat.
Homeowners often don't realize exactly how important of a role their thermostat plays in home comfort. It essentially serves as the "brain" of your heating and cooling system. Poor installation, or even being outdated can cause your thermostat to bring down the efficiency of your HVAC systems, and leave you paying more for less comfort.
Having a Honeywell WiFi thermostat installed, however, affords you a number of benefits, including:
Money Savings: The thermostat uses data from your use of its settings to "learn" from and automatically adjust, in order to reduce your energy use without lowering your comfort.
Convenience: Your WiFI thermostat does the work for you—it creates programs for day and night time, and for different days of the week (to adhere to when you're home and when you're away).
Remote: The WiFi capabilities of these thermostats allow you to access your home's thermostat from your smart phone or mobile device, no matter where you are.
Reporting: Your WiFi thermostat will provide you with detailed reports on the conditions in your home, and how much money you're saving. You'll always know how this system is working to benefit you!
Ambient Comfort is raffling off a FREE Honeywell WiFi Thermostat to one of our amazing followers! To enter, "like" us on our Facebook page and follow the instructions you see on this post. Giveaway ends 1/31/19. Take advantage today, and contact us for all of your HVAC needs.