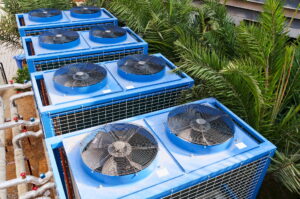 Air conditioners are put under a lot of stress during the summertime. Especially when we start seeing days with record highs and humidity levels that feel like we're all breathing water, it's common for an AC system to overheat. If your air conditioner is overheating or regularly running into problems that cause it to shut down, we urge you to call our team to have your air conditioning system in Cape May County repaired quickly.
While you're waiting for our help, let's talk about how an air conditioner overheats in the first place. After all, for those of us in Avalon, Ocean City, Sea Isle City, and the surrounding areas, air conditioners should be cooling things down, not heating up right? Well, it's not exactly that simple.
Air conditioners that are under a lot of pressure can overheat for a few reasons listed below.
Detecting an Overheating AC
An overheating air conditioner can be quite simple to spot. If you notice that your system keeps abruptly shutting down when your home still hasn't reached the setting on your thermostat, then it's likely the system reacting to being too hot. Thankfully, air conditioners are designed to shut down when components get too hot to avoid any catastrophic problems or components breaking apart. Here are three reasons why your air conditioner might overheat on a hot day:
A Clogged Air Filter
Your air filter needs to be replaced every 1–3 months to ensure maximum airflow through the system and your ductwork. If an air filter gets clogged up or starts hindering the flow of air, it can cause your system to buckle under the pressure as it works in overdrive to get more air into the unit so it can continue the cooling process. Think about it this way: when you leave your air conditioner with a clogged air filter, you're stifling the system and essentially suffocating it, making it overheat.
A Refrigerant Leak
Air conditioners depend on refrigerant to successfully vent the heat from your home and cool the air as a result. When there's less refrigerant, due to a refrigerant leak, it's going to have trouble doing this to the point where the internal temperature of the system could increase. If your air conditioner is overheating, check around it to see if you hear a "hissing" or "bubbling" noise, since this will usually denote a refrigerant leak problem occurring.
Dirty or Broken Coils
Even though the air filter is designed to protect your air conditioner's coils, sometimes contaminants can still get through and gunk up the system. A coil that's dirty or broken is just not going to be able to cool the space in your house adequately enough. This kind of problem can quickly get out of hand and lead to an overheating air conditioner as the system tries its best to compensate for a broken or dirty set of coils. Our technicians can clean coils with special equipment, and we can also replace them if they are broken, you just need to call our team and schedule an appointment.
Call Ambient Comfort to schedule AC repairs. Teachers can get an additional $50 off of repairs as well!