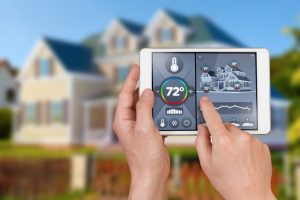 We could talk about all the advancements made to HVAC systems and the benefits of installing a new system, your HVAC system options such as ductless mini-splits, and how to boost the efficiency of your air conditioner by using ceiling fans. These are, after all, methods of improving your air conditioner efficiency.
There's another piece of technology though that has helped air conditioners make huge strides in efficiency with minimal work—the thermostat!
As you likely understand to a point, the thermostat of your HVAC systems is essentially the brain of those systems. Today's smart thermostats—also called Wi-Fi thermostats—can do so much more than simply set temperatures. You can keep things that basic if you choose, but the biggest benefit of a smart thermostat is the precision and customization it affords you. Keep reading to learn what type of benefits you can take advantage of with a smart thermostat!
You'll Save Money!
A smart, programmable thermostat enables you to preset certain temperatures for certain times throughout the day. For example, you can set your thermostat to lower the temperature automatically during the night or when your home is unoccupied. You might be surprised to find that you can save as much as 10% of what you were previously paying each year on cooling (and heating) costs just by the precision of temperature afforded by a smart thermostat.
You Can Cool Your Home More Conveniently
Many smart thermostat models are capable of creating programs on their own, so you don't need to think too hard about how to best adjust the temperature in your home.
You Have Nearly Limitless Wi-Fi Capabilities
By connecting your home's Wi-Fi, it can be controlled from almost anywhere. Whether you're away on vacation or at work for the day, you can control your HVAC systems remotely. You won't need to worry about running up your utility bills if you forget to turn off your air conditioner before you leave for work.
Smart Thermostats "Learn" From You for Maximum Efficiency
There have been many updates made to today's thermostats, with Wi-Fi and smart thermostats being no exception. For instance, some models can analyze local weather conditions and automatically adjust according to the cooling or heating preferences you've set for it before—essentially it learns from your cooling and heating practices.
"Can I Install My Thermostat on My Own?"
We get this question a lot, and we understand why. After all, it's just a tiny component that you basically nail into the wall, right? How hard can that be?
Well, the problem with this line of thinking is that homeowners often don't realize that where they install their thermostat will make a huge difference. This goes for any type of thermostat, not just the Wi-Fi version. If you put the thermostat in a very sunny spot in your home, it can cycle on hours before you need it, which is an absolute waste of energy and money for you.
On the other hand, if you put it in a traditionally cool location. It may not cycle on soon enough.
When you need help with your air conditioning in Egg Harbor Township, look no further than Ambient Comfort. Contact us today!