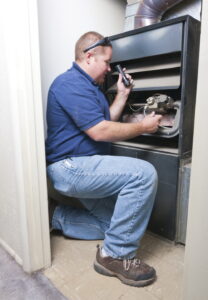 We want homeowners to be excited about their heating systems, especially when they've got a professional team like ours on hand to fix them. This is important because of how bad it can be when homeowners try to do repairs themselves. DIY projects are fun and can be a great way to save money, when it's just building a garden outdoors or painting a wall in your home, but your HVAC system is a much different thing.
Unfortunately, there's a lot that can go wrong when you try to perform DIY heating repair in Salem County. We've got nightmare stories from Pittsgrove, Pilesgrove, and Woodstown about homeowners disrupting their warranties, bumping or misaligning components, or actually causing the need for a full replacement. Let's briefly talk about what can go wrong with DIY repairs and then focus on the benefits of a professional fix.
Three Things That Can Go Wrong
We'd like to start this blog post by being clear that we always encourage homeowners to be more involved with the heating process. If you want to help your heater run more efficiently or effectively, there are plenty of ways to help. You can change your air filter regularly, sign up for a maintenance program, or you can even invest in newer options when you heating system reaches the end of its lifespan. That's usually enough to occupy even the most diligent of homeowners!
However, in all honesty, here are the main reasons why we don't want homeowners trying to fix their heating systems on their own.
Void your precious warranty. Warranties are really amazing. They're a way to feel peace of mind in your home because you don't have to worry about the cost of a repair while the system is under warranty. Though, trying to fix your heating system on your own is going to void your warranty and possibly cost you more the next time you need a repair!
Bump or Misalign a Part. Precious equipment is required to perform heating system repairs. If you're using a tool that's too large, too small, or not the right shape, you could break or bump a component and cause serious damage to your heating system. You might not even know the system is broken or misaligned until you turn it on and it starts making strange noises or providing poor comfort control.
Hurt yourself or cause a fire hazard in your home. Do you have a gas furnace? Or perhaps you use an electric heating system? Regardless, you could actually hurt yourself when you try to repair your heating system. Gas furnaces can pose a fire hazard to your home if you botch a repair, and similarly, an electric heating system could shock you or cause a disruption to your home's energy system. Basically, heating repairs done by someone who is not an expert can be dangerous.
Luckily, you don't have to do repairs yourself. Our team is standing by and ready to perform expert heating repairs on a wide variety of system types.
Contact Ambient Comfort to schedule a heating repair appointment today.