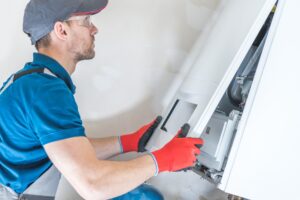 Wouldn't it be great to have the whole family over this year for Thanksgiving, so you can truly focus on what you're grateful for? This is entirely possible, and the closer the holiday gets, the more excited homeowners are to cook some delicious food, share in some holiday traditions, and warmly embrace their loved ones. However, this might not be possible with furnace problems.
We want to be clear that the furnace is one of the most important pieces of your home comfort. Without it, temperatures would drop, your home would be uncomfortable, and it might not be the center of love and holiday spirit that it usually is. That's why we think, as your professional HVAC experts, that noticing the need for furnace repair early is the best way to avoid this from happening.
Let's talk about how to tell if you need furnace repairs in Gloucester County.
5 Signals That You Need Professional Help
Here are five straightforward signs that your furnace needs help. Remember—the sooner that you get your furnace the attention it needs, the better off you'll be. Problems can compound over time, the repairs can get more expensive during the busy season, and your comfort could suffer when it shouldn't.
Foul odors. It doesn't matter what type of heating system you have, if it's giving you foul odors through the vents then something is wrong. Odors coming from a heat pump could signal a problem with growing mold, and odors from a furnace could be a safety concern as the system might be leaking gas, smoke, or carbon monoxide.
Loud noises. If your furnace is making loud or uncomfortable noises, then it's likely there's a component that's broken inside of the system and it needs to be fixed. Our team specializes in fixing these components and making sure your furnace is operating as safely and efficiently as possible.
High heating bills. High heating bills definitely signal a problem. If you're seeing your fuel or energy bills rise, then it means your furnace is having to use more fuel to run at the same level it always has. This means there's some sort of inefficiency, which is usually caused by a problem that needs to be repaired.
Uncomfortable temperatures. Don't just settle for poor comfort in your home. If temperatures aren't where they should be, then that could be a great reason to call for professional furnace repairs.
Cold spots, short, frequent cycles, or poor system performance. Cold spots, frequent cycles, and poor system performance could clue you into something wrong with your furnace. You could also be seeing your system starting to break down or retire, which would mean investing in a new replacement system to take over. Or, if you've added any sections onto your home, your furnace could be the wrong size and you might need to upgrade.
The professionals at Ambient Comfort specialize in furnace repairs throughout Newfield, Elk, and Glassboro, as well as other areas in Gloucester County. Don't hesitate to call us today!