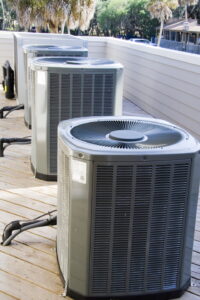 Commercial HVAC in Atlantic County, NJ can be complicated. Businesses have a lot of needs and they're becoming fed up with subpar service or contractors that promise more than they can provide. This is a serious problem because when commercial HVAC companies don't provide what a business needs, the whole community's economy can suffer. Legal issues, employment issues, and funding issues can all become front and center from uncomfortable and unsanitary comfort conditions.
Today, we'd like to focus on the difference building owners find when they work with us. We want to highlight the "why" our business excels at working with commercial clients in the area. If you're a business owner in Folsom, Linwood, and Ventnor City, our team can provide comprehensive HVAC work that gets things done quickly.
Let's talk about why Ambient Comfort provides a better level of service than other competitors in our area.
Start With the "Why"
Not every company provides commercial HVAC services in this area. This is usually for a few reasons.
It's intense. The equipment that commercial spaces require are usually larger in size and require specialized equipment. This can often be a difficult thing for an HVAC company to provide effectively. Some companies will say they provide commercial HVAC service, but they're really just using residential equipment to eek out some minor results that get them more customers. It's a good idea to avoid this kind of company.
Stakes are high. Some companies just can't handle the increased needs of commercial clients. When your business is at stake, there's a lot more on the line than there might be in residential services.
Businesses have special needs. Some businesses require very specific HVAC systems to keep their buildings comfortable and clean.
We Have What It Takes
Our team might be smaller than some, but we're well-organized and our staff is as talented as they come. Talent, expertise, experience, and equipment are essential when it comes to providing commercial HVAC services, and that's exactly what we have! Here are just a few reasons why our team is more than happy to provide comprehensive HVAC support for businesses in Atlantic County.
Scheduling. Simply put, we do things when we say we will. We have all the equipment we need to provide you with results that keep your business running smoothly.
The right equipment for the job. We don't retrofit residential systems for a business, and we don't try and pretend like we're a commercial service provider when we're not. We provide high-tech equipment that's designed for commercial spaces.
The experience. We've been doing this kind of work for a while. If you notice a brand-new company with no reviews offers you good prices on commercial HVAC work, you might want to steer clear from them. Ask some of our commercial clients about the quality of our work and you'll notice a consistency that only hard work can bring.
Camden County, NJ Community-Oriented Service
What's the most important reason why we offer commercial services? Well, it's because we're a business in this community too. We're all in this together and we'd like to help lift up other businesses with our expertise if it's possible.
Let's work together to make Atlantic County more comfortable. Call Ambient Comfort today.