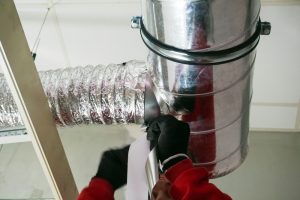 With temperatures making a significant drop in the coming weeks, there's no denying that winter is well on its way. That being said, it's vital that you make sure your forced air heating system is ready for what's to come, which includes scheduling routine maintenance for the system. Getting a professional heater tune-up is the best way to ensure that the system will function without any issues over the winter, and that it won't cost more to run than it should.
There's much more to keeping this heating system functioning as efficiently as possible, though. Maintenance is essential, of course, but it's not the end all to be all. One of the biggest threats to energy loss you might face over the course of your homeownership is that of leaks from your ductwork. It's something that too little people think about, but proper, professional, Camden County, NJ duct sealing can keep your HVAC systems from losing about 20-30% of the air moving through it.
Consider what this means—it's conditioned air you're paying for all winter long (and summer long, in the case of your air conditioner) that simply goes to waste. With your ducts properly sealed, however, you'll see savings on your monthly energy bills.