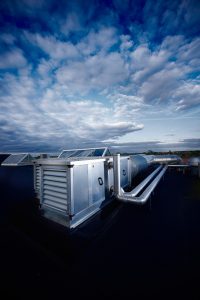 The short answer to this is "once a year." But the fact of the matter is, every business and commercial space is different and has varying needs.
To truly determine how often your commercial space requires commercial HVAC maintenance, we urge you to give us a call. In the meantime, read on to learn the benefits of being set up with a maintenance plan for your commercial space.
What's In a Maintenance Agreement?
First off, professional maintenance enables our commercial HVAC technicians to thoroughly inspect, clean, and adjust your HVAC system(s). This has a number of benefits, which we'll get to below. But it's important that we discuss the power of a maintenance agreement, too.
You may hear this referred to as a maintenance plan or maintenance program, alternatively. Regardless of its given name, it means getting your business enrolled in regular maintenance sessions for both your commercial air conditioner and heater. Our CCA Comfort Club membership is one such plan and it affords you precision tune-ups, free appointment reminders, priority service, a peace of mind, and 100% guaranteed satisfaction.
The Advantages of Commercial HVAC Maintenance
We know what it takes to run a business. We also know what it means to have a massive business interruption, and we don't want a malfunctioning HVAC system to be one for you. This is a prime reason we recommend staying on top of your commercial HVAC appointments. Routine maintenance will afford your commercial HVAC systems the following advantages.
Longer Equipment Life: As we mentioned above, maintenance allows our technicians to fully inspect and clean your HVAC systems. The inspection process involves looking for any repair needs, any parts that need adjusting before they become too loose or damage other components in the system, and how clean the system is. You'd be surprised by how much the cleanliness of these systems can affect their performance.
Reliable Heating and Cooling: If you rely on anything consistently in your commercial space, it should be your HVAC system. But the only way it can work flawlessly is if you schedule routine maintenance, and follow up with repairs promptly, as needed.
Energy Savings: We get it, the most important part of your business is your bottom line. But what about overhead costs? These certainly play a role in your profits. The wear and tear that commercial HVAC systems accumulate over the years adds up to a drop in system efficiency. In fact, the average HVAC system loses 5% of its energy efficiency each year that maintenance is skipped. This means utility bills will keep rising and rising. With everything else on your plate, you might not even notice at first. But the cost can be significant, so this is worth preventing.
Fewer Repair Needs: As we mentioned, part of maintenance is alerting you to any repair needs that might exist with your HVAC system right now. This is so that you can take care of it right away. Neglecting or ignoring the issue will only cause it to grow, and to begin impacting other parts of your system.