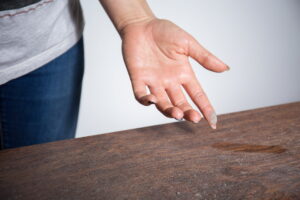 When looking at your options for air filtration in Cape May County, NJ, you've got a lot to think about! There are so many different types of contaminants that have infiltrated our homes these days, that it can be a little overwhelming for a homeowner doing their own research. We want to open this blog post with a PSA: you can always call our team for advice when it comes to the health and security of your indoor air.
However, if you're just window shopping on the internet, then we'd like to talk today about a specific type of air filter—the High Capture filter. While you might be able to find a whole slew of air filtration systems at your local hardware store, none of them will be as helpful or powerful as a high capture filter that's installed by our team. Keep reading as we get into the details below!
What Is a High Capture Air Filter?
When we say the term "high capture air filter," what we're really talking about is the system's ability to capture more contaminants than a smaller or less effective air filtration system. Depending on the size of the air filter, the materials that it's made out of, and the installation of the unit, it's going to capture a different amount of contaminants from your air. Before you go selecting the highest grade air filter and the largest air filter possible, bigger doesn't necessarily mean better.
Your air filtration unit should fit your home and the amount of air that your home cycles through your HVAC system. The sizing and installation of an air filter should always be done by a professional, no matter what anyone in Sea Isle City, Stone Harbor, or Ocean City tells you.
The Benefits of a Professionally Installed High Capture Air Filter
Here are just a few benefits that you might receive from a high capture air filter, when compared to a lower-grade air filter you'd find at a hardware store.
Better HVAC efficiency. Our team specializes in choosing the air filtration systems that are the right size and material for your home, as to not affect the airflow that goes through your air ducts. This is vital, because any restricted airflow can lead to a decrease in energy efficiency and higher bills. An air filter from a hardware store might restrict the airflow of your home.
Saving money. A lot of hardware store air filters are expensive, and they don't work nearly as well as a high capture system set up by our team.
Better system alignment. This can be read in two ways. While your air filtration system needs to be physically aligned in order to catch contaminants, it also needs to align with your home's needs. If you don't have major problems with dust, debris, pet dander, or other contaminants, then why would you need such an expensive, heavy-duty air filtration system? When you work with us, we can walk you through finding the right system that aligns with your home's needs.
What Is a MERV System and How Is It Used?
MERV stands for "minimum efficiency reporting value," and it's a system that rates how effective an air filter is. If you've got a specific contaminant that you'd like to target with the help of air filtration technology, then call us today so we can figure out the right MERV measurement to use and which system to install.
Contact Ambient Comfort today for professional services that keep you comfortable!