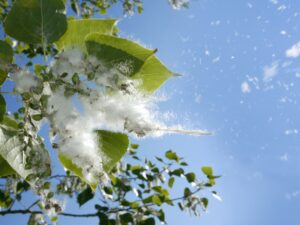 Allergies are a tough concept to cover. People who suffer from allergies can feel marginalized since there are many people who don't feel the effects of pollen and allergens in the air. And, to make things even harder for people who deal with allergies in the spring, it's an unavoidable part of the year that you can't really get around. Every spring, the snow melts, and the plants release their pollen to reproduce. This is just the way things go.
However, while you can't stop allergy season outdoors, you can absolutely stop it inside. For everyone suffering this spring, we get it. This blog post is dedicated to homeowners in Northfield, Folsom, Hammonton, and anyone in Atlantic County who wants to get a head start on combatting allergies this spring.
Naturally, we think it's the perfect time to discuss the installation of an air purifier in Atlantic County. This system can and will help you fight allergies this season.
Where Do Allergies Come From?
The concept of allergies might seem like it's complicated on the surface, but it's actually fairly simple.
Springtime is when the snow and ice in our area melts. This means that any old allergies or contaminants in the air that were encased in ice and snow are then released into the atmosphere right where we can breathe them in. This is the first problem with air quality during the spring.
Then, as temperatures warm up, plants begin to release pollen into the air. Pollen is a fascinating way of reproduction, where trees, grasses, and weeds send their spores into the air to be carried by the wind and settled somewhere else. Unfortunately, this pollen also can end up right in your nose or mouth, which can cause an allergic reaction or make it difficult to breathe.
Your Home Might Be Perfect for an Air Purifier
Your home is a closed space system, which means that it shouldn't really be affected by pollen. Just like how our homes can keep cold or hot temperatures from creeping inside, it should also be able to regulate the air quality and keep things pretty airtight indoors. This goal can be achieved with a powerful air purifier on your side!
Introducing the REME Halo Air Purifier
We install and maintain REME Halo air purifiers, which are state-of-the-art systems that use both UV light technology and gaseous hydrogen peroxide to disinfect your air and regularly clean it. Biological contaminants are easily eradicated when they pass through your ductwork and a REME Halo air purifier, including viruses, mold spores, and even bacteria!
Combine this system with some best practices, and your home will be clear of pollen. Remember to keep doors and windows closed whenever possible so that pollen can't drift indoors and cause your air quality to suffer.
Take a Look at Our Current Promotions!
We know how bad pollen and contaminants can be in the springtime, so we're offering some select promotions on our services! Take a look at our promotions page and give our team a call if you're ready to clean your indoor air.
Contact Ambient Comfort today for the installation of a new REME Halo air purifier!